LITTLE GREENE WALLPAPER
Alongside their gorgeous palette of paints, Little Greene have an incredible selection of wallpapers to choose from. Using archived fragments of recovered papers, they re-work and recolour historical papers to fit the modern home. 
From traditional detailed damasks through to striking bold 1960's designs, there is fantastic choice for all your decorating desires!
We hold all the books from their current wallpaper collections, and it's an indulgent treat to skim your way through them and designate the rooms that they should belong in!
Take a look below to see some examples of a small selection of papers from their vast collection.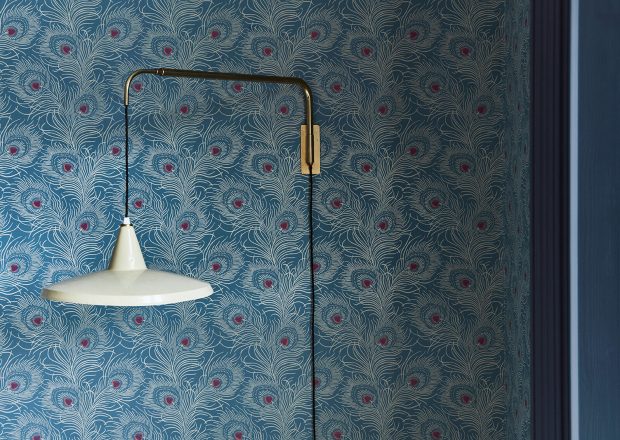 As soon as we became a stockist for Little Greene we were desperate to get one of their wallpapers up somewhere in the shop. So, from the Archive Trails collection we chose Vine (c1932), taken from the archive at the Whitworth Art Gallery in Manchester, it offers an unmistakeable nod to William Morris, the father of the late 19th Century Arts & Crafts movement.
An authentic surface print technique was employed to reproduce this contemporary version, with the blue colourway being very close to the original in colour – despite the poor condition of the background colour on the surviving fragment.
The blue ground worked beautifully with our paint choices of Hick's Blue Intelligent Emulsion on the surrounding walls and Ashes of Roses in Absolute Matt Emulsion on the ceiling and Intelligent Eggshell on the woodwork and architraves.
LITTLE GREENE WALLPAPERS